The Flourishing Therapreneur© is podcast + platform that equips therapists to thrive in business, expand their reach + create flourishing and meaningful lives - both personally and professionally. I'm your host, Claire Blakey, I am licensed marriage and family therapist in private practice in California. I believe in being a mutipassionate therapist - you can have a thriving financially impactful business, be a leader in the community and also a business entrepreneur. You don't have to choose and your impact as a clinician can go beyond the therapy room. I believe you can be a therapist and an entrepreneur -- a therapreneur. And I believe that every therapist deserves the tools, community and resources to build thriving businesses and live flourishing lives. I pair my passion and previous career in PR, marketing and blogging with my education and experience as a clinician to equip therapists like you, who are multi-passionate and wanting to pursue additional opportunities to grow your skillset and expand your reach. Tune in every Tuesday for a weekly episode with guest speakers. Join our community and countless guests -- clinicians, lawyers, CPA's, business mentors, successful therapists, CEO's and creatives as we dive deeper into the philosophy of The Flourishing Therapreneur©. Whether you are looking to build a successful private practice as a therapist, launch a podcast, write a book, found a nonprofit or pursue other business endeavors -- our conversations will ignite ideas and equip you with tools to grow as a therapist and business owner. www.theflourishingtherapreneur.com | @theflourishingtherapreneur
Episodes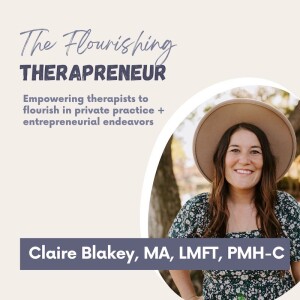 Tuesday Mar 22, 2022
Tuesday Mar 22, 2022
On today's episode of The Flourishing Therapreneur we are joined by Liz Gray, LCSW, RPT, Clini-Coach®, and Founder of Organize and Thrive.
This episode is for you if you are:
A Highly Sensitive Therapist (HST) (or think you might be!)

Constantly fighting physical, digital, or emotional clutter

Struggling to run your private therapy practice in an efficient manner

And hungry for organization and systems to make your work more efficient, saving you time and energy!
I loved sitting down with Liz to chat about how Highly Sensitive Therapists (HST) navigate private practice and overcome barriers we face in our field. We dove into how various kinds of clutter (digital, physical, and emotional) can affect each of us, as well as how this shows up in our professional and personal lives. We acknowledged the shame and isolation that often accompanies clutter, and got a taste for how systems can make things sooo much easier going forward. S.Y.S.T.E.M.S.: the invisible string making things run smoothly–saving us time and energy! 
Want to learn more? Go to our website: www.theflourishingtherapreneur.com Join our free community on Facebook or connect with us on IG: @theflourishingtherapreneur
Did you enjoy learning from Liz? Connect with her Instagram @organizeandthrive1 and at www.organize-and-thrive.com.
Sign up for her upcoming academy at https://organize-and-thrive.com/.